There is no coincidence that Vietnam is among Condé Nast Traveler's chosen countries in 2020. The S-shaped country has risen to become a favorite destination to visit in recent years. Rich history, biological diversity, and gastronomy are what attract travelers the most. While we are unable to travel yet, here are the top ten foods you must try when traveling in Vietnam in the future.
1 Banh Mi
Banh mi has been a staple to Vietnamese generations, long before making its way to the prestigious Oxford English Dictionary in 2011. Since then, the scrumptious sandwich continues to capture many people's hearts. All it takes is the perfect combo of fresh-baked bread, pickled veggies, fresh coriander, pâté (ground pork and pork liver), meat, and chili sauce.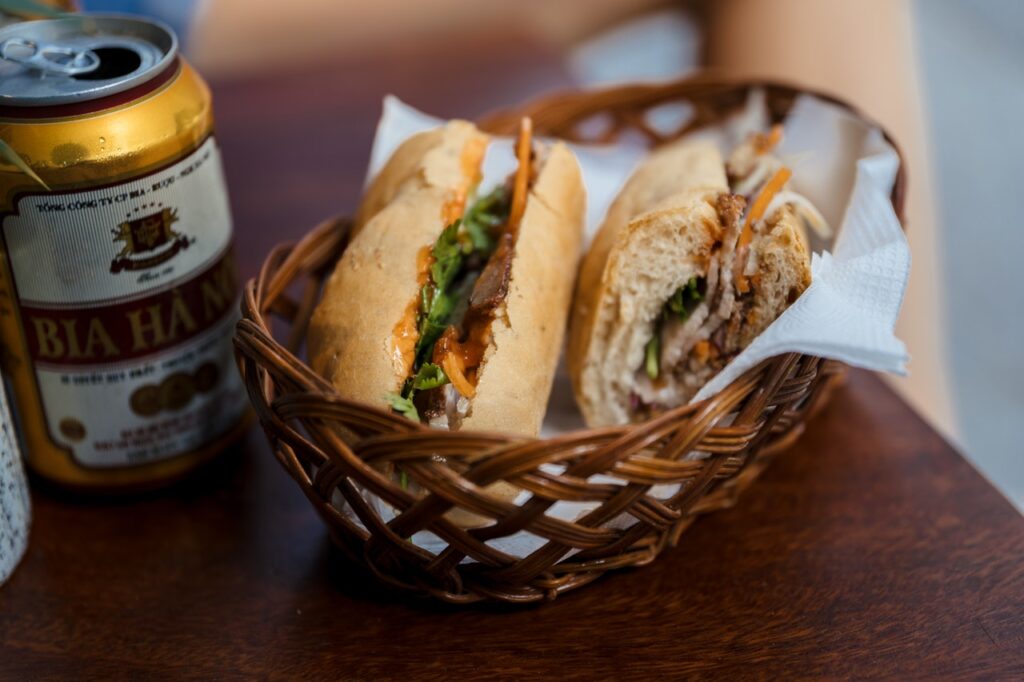 2 Pho
Pho is next in line when it comes to global-recognized Vietnamese food. No matter what time of the day – morning, noon, or very late at night, you can always find it. Although having a few variations, the classic soupy Pho should be the first to try. Here's a pro tip to enjoy it like a local: taste the broth first, dip in the fried dough while it's still crunchy, and bon appétit!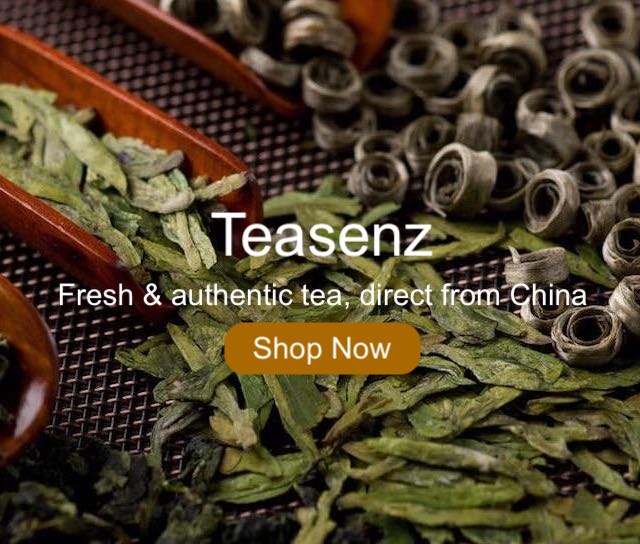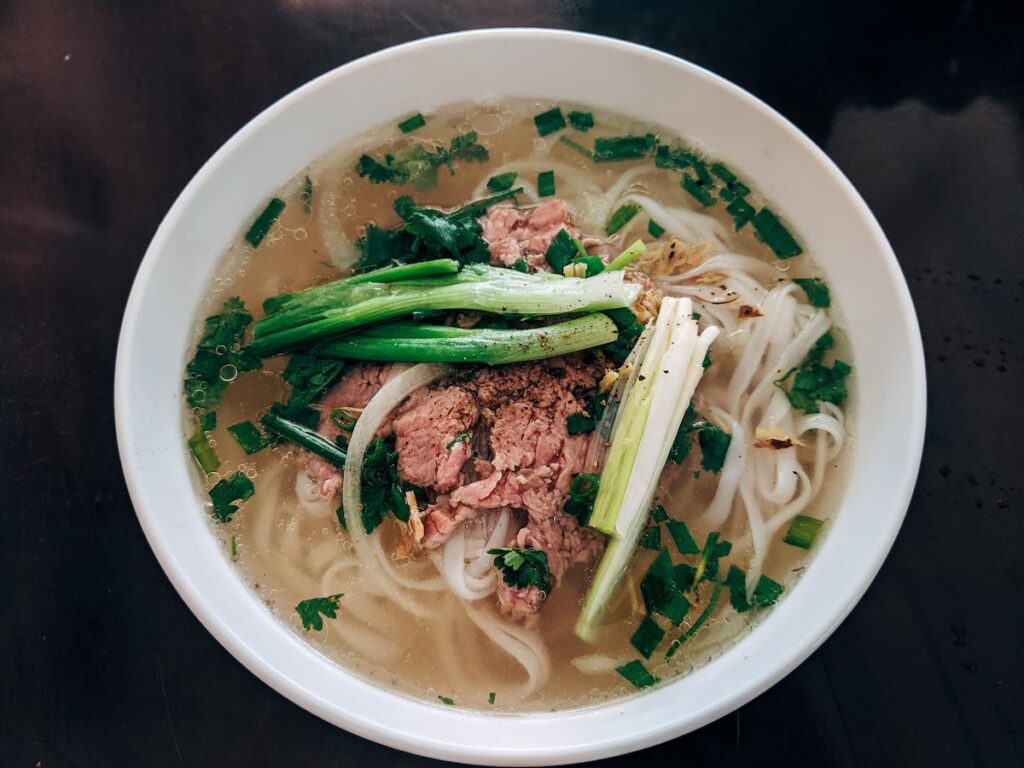 3 Bun Cha (rice noodles with char-grilled meat)
Bun cha made international headlines when former US president Obama sat down for a plate with Anthony Bourdain in Hanoi back in 2018. A Hanoian invention, bun cha may be the second most important dish next to Pho. Glistening noodles, fragrant char-grilled meat, green veggies, and spicy dipping sauce… Doesn't it make you salivate just thinking about that? Definitely a must-try!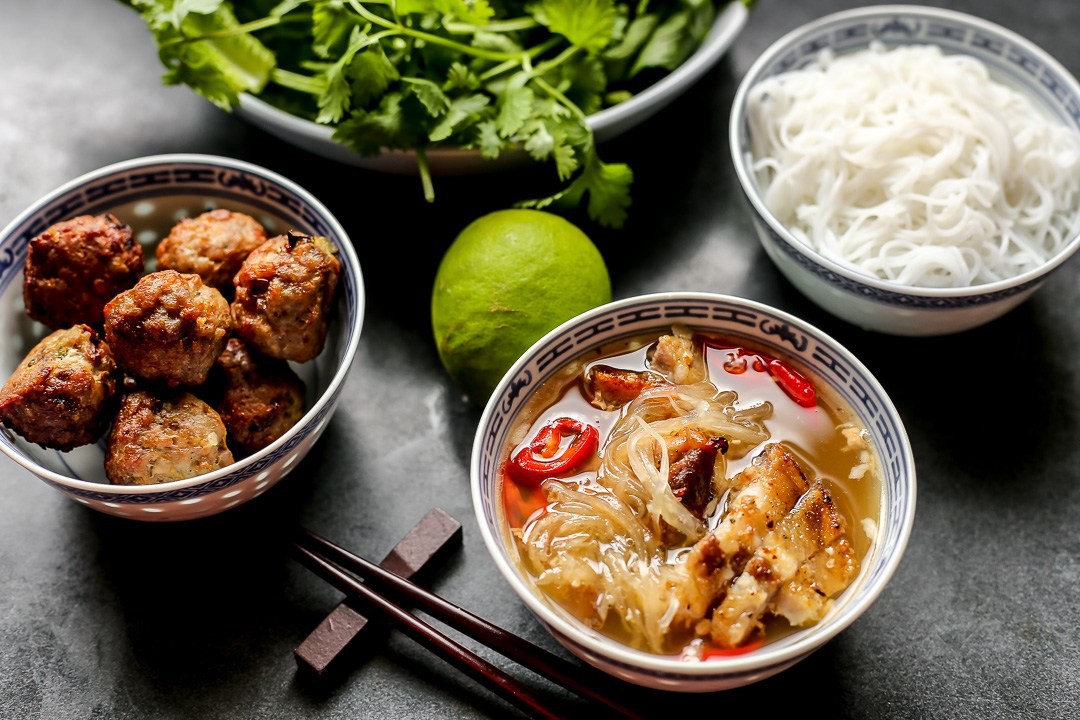 4 Banh Cuon (Vietnamese Steamed Rice Rolls)
The perk of traveling in Vietnam is that you always find a good rice-based dish to try. Take Banh cuon for example. Thin like a French crepe, silky like Cheung Fun, banh cuon is the Vietnamese version of steamed rice rolls. Oftentimes, banh cuon's filling comes with sautéed ground meat, wood ears, and mushrooms. But vegans can also enjoy it with the no-meat option. What makes banh cuon pop is its dipping sauce, a mix of various flavors from fish sauce, kumquat, chili, and a handful of cilantro.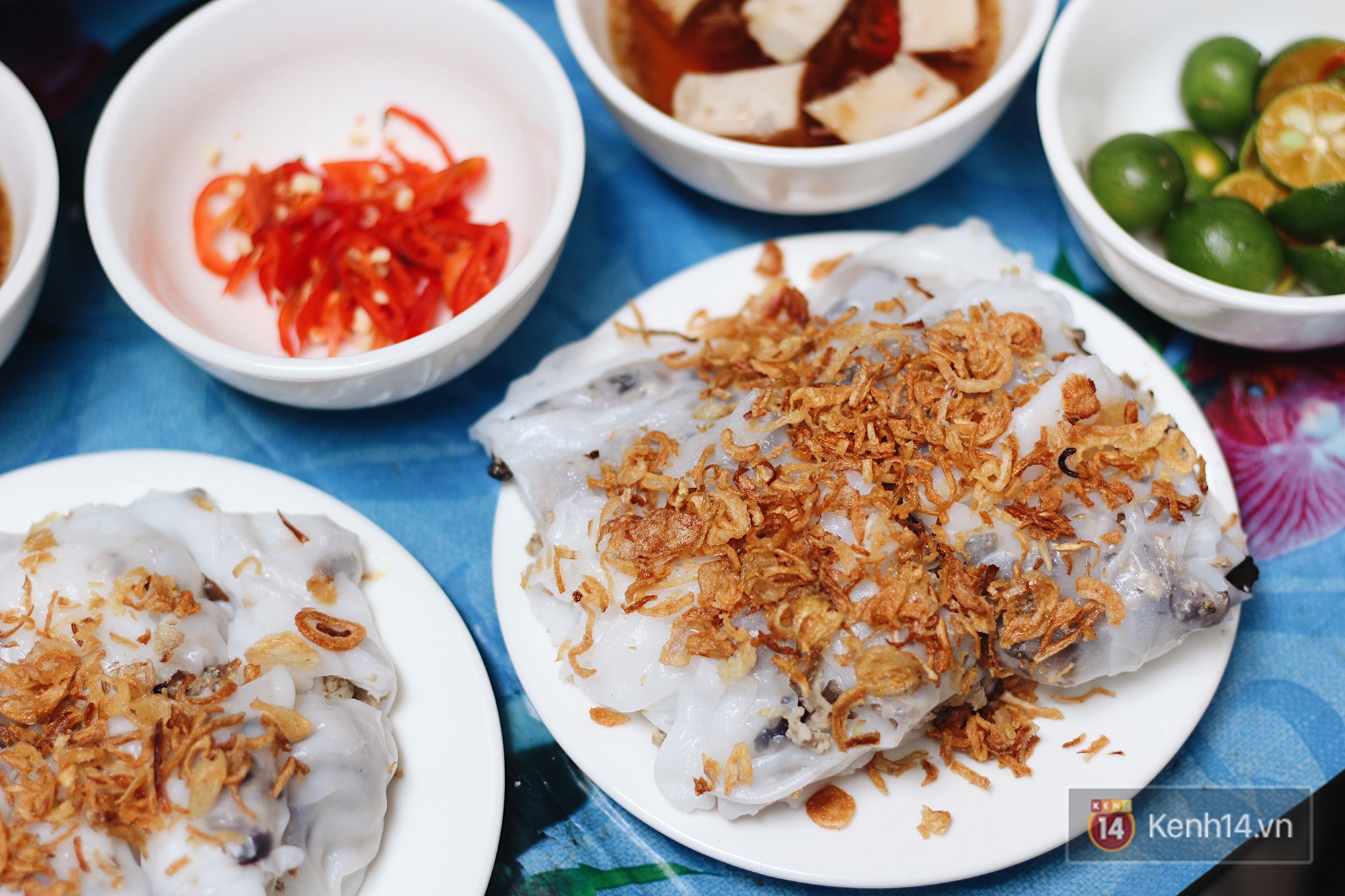 5 Banh Da Cua Hai Phong (Hai Phong Red Crab Noodles)
There seems to be a universal rule that port towns give birth to amazing seafood dishes. Only a 2-hour drive east from Hanoi, the port city Hai Phong is home to national-acclaimed dishes like banh da cua (red crab noodles). What makes it different from Pho is the reddish big, flat, and chewy noodles in a super-rich crab broth. Plus, the toppings are worth drooling over. In one bowl, you'll get crabmeat, meatballs, fish balls, fried tofu, wood ears, crispy onions, tomatoes, morning glory, and scallops.
6 Bun Bo Hue (Hue Beef Noodles)
Bun bo Hue is named after Hue, a city located in central Vietnam, and once the country's monarch capital. Despite being in a rice-based family, bun bo Hue still stands out as a unique dish. Besides ingredients like hand-pulled noodles or slices of beef, you should expect blood jelly curds and pig's trotters as well! It may sound daunting, but one try and it will blow you away with the incredible rich flavor.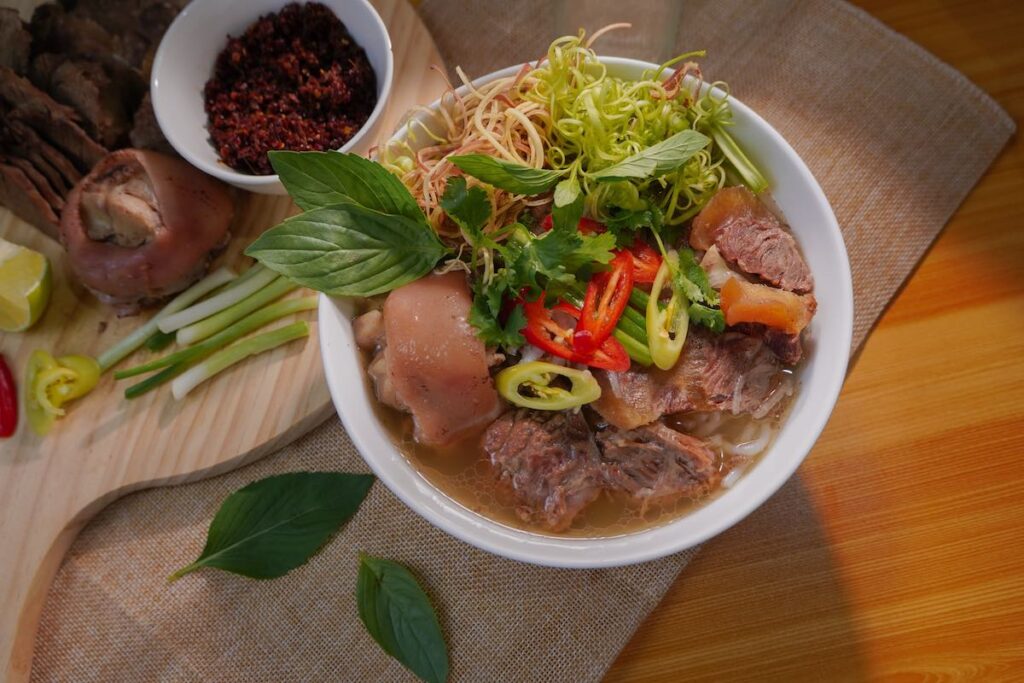 7 Com Ga Hoi An (Hoi An Chicken Rice)
Hoi An isn't only entitled to be a UNESCO World Heritage Site. Thanks to its location, the town has taken up food influences from all over the world. One of the most obvious traces is the Chinese influence in Hoi An chicken rice. Taking inspiration from Hainan chicken rice, locals altered the dish to fit their appetite. Apart from the usual cooked rice in chicken broth, Vietnamese spices are added to 'localize' the dish. You'll find a generous amount of Vietnamese coriander on the plate, alongside pickled vegetables and spicy dipping sauce. No wonder the dish has been the number one Hoi An food to try since its birth.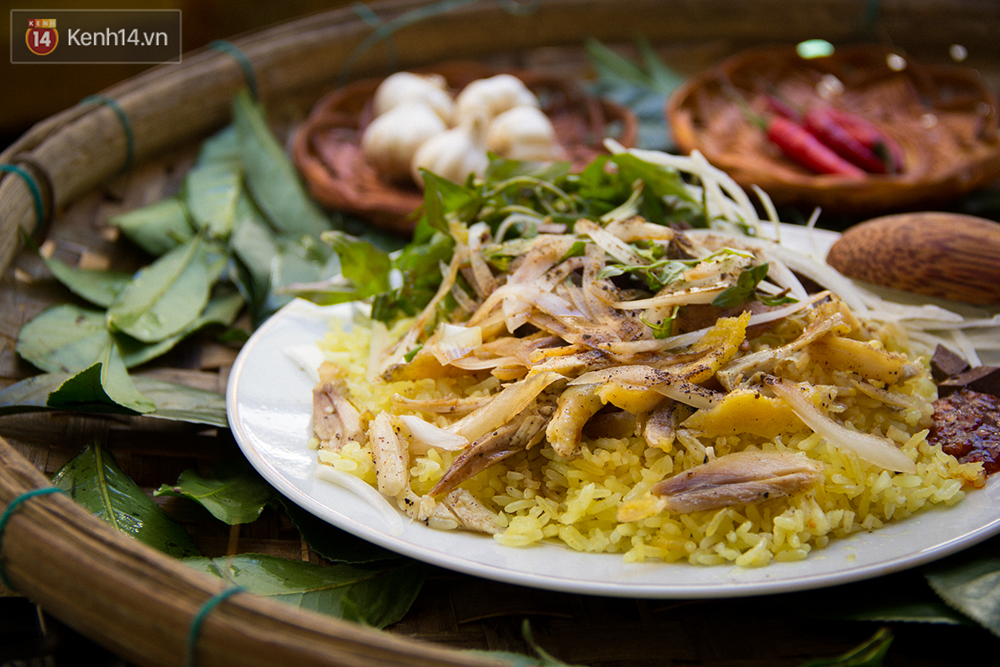 8 Mi Quang (Quang Noodles)
When staying in cities of the Quang region in central Vietnam, you will come across Mi Quang (Quang noodles). A proud Vietnamese invention, Mi Quang sets itself apart from others by being neither soupy nor dry. First off, its semi-thick soup submerges the noodles halfway. And not to mention the hearty toppings – cooked shrimp, pork, a poached egg, peanuts, and a piece of rice cracker. On top of that, you will have a lot of herbs to mix with the already-delish noodles.
9 Banh Xeo (Vietnamese crepes)
Banh Xeo (Vietnamese crepes) is one of the dishes that go beyond its regional border. When in Vietnam, you may be able to try not one, but at least three variations of banh xeo. What sets them apart is how they make the shell (crepe). In the center, the crepe is a bit soft and thick, whilst it is thin and more crispy in the south. But they all share something in common. The filling often consists of cooked shrimp, pork, bean sprouts, and spring onions. Also, the crepes are served hot with girdled rice sheets, vegetables, and spicy dipping sauce.
10 Com Tam Suon Bi (Broken rice with ribs)
If Pho is what you must try when in Hanoi, com tam is what you need when in Ho Chi Minh City (Saigon). An invention of Saigon natives, com tam is your go-to lunch and dinner when in town. First of all, the broken, small grain rice is a perfect base. Plus, the very fulfilling items that go on top of the rice are mouth-watering. In a standard plate of com tam, you will get slices of meatloaf, grilled ribs, sunny-side-up eggs, and pork rind. For the final touch, add sautéed scallions and spicy dipping sauce. And you'll have a plate full of happiness waiting to be devoured.