Princess Wencheng (625–680) is one of the few female figures who played an important role in the history of the Tang Dynasty in China. As a royal in the Tang dynasty, she married King of Tibet Songtsen Gampo. As a result, she contributed to peace between China and Tibetan empire. Her arrival also significantly contributed to expanding Chinese civilization beyond its borders.
Tale of Princess Wencheng and Songtsan Gambo—along with their successes in advancing Tibetan culture—has been widely shared among the Han and Tibetan populations through murals, plays, folk songs, and legends.
Who is Princess Wencheng?
Princess Wencheng was born to a member of the family of the Emperor of the Tang Dynasty. She had been given the title of princess, adopted by his Empress Zhangsun, brought up in their opulent court, and given a traditional Confucian education. She benefited from educational advantages while living at the start of the Tang Dynasty's Golden Age in one of the most multicultural capitals at the time. As a young girl, she studied Chinese classics and history and became an expert on traditional Chinese culture.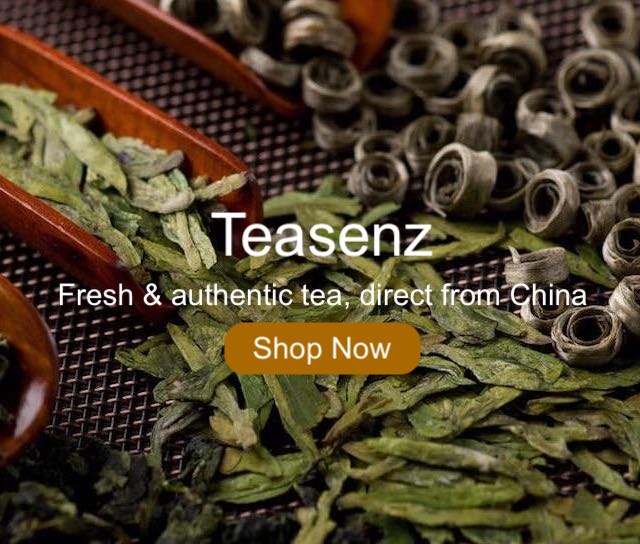 In Chinese history, the Tang dynasty possessed great power. It served as East Asia's centre of civilization. The Tang Dynasty impacted neighbouring countries and tribes, sincerely seeking to establish ties with them. They either pledged allegiance to the Tang or made a tribute to the imperial court. This promoted interaction between the Han and other ethnic groups.
Marriage of Princess Wencheng and Songtsan Gambo
During the same time, Songtsan Gambo took control of the western highlands. After annexing a few minor states, he established the Tubo Kingdom and gave the capital the name Loso (Lhasa). Chinese accounts claim that during a state visit to Imperial China in the Spring of 634, Tibetan King Songtsen Gampo had a love-at-first-sight encounter with the princess. He reportedly relentlessly pursued her hand by sending envoys and tributes but was rejected.
According to a legend, in the years 635 and 636, Royal Tibetan forces were sent out to attack and subdue the Tuyuhun tribespeople who had taken up residence strategically near the Lake of Koko Nor in modern-day Qinghai, blocking a route for trade into Imperial China. When the Royal Courtiers learned of Tibetan King's attack on Songzhou, they dispatched their militia to defeat Songtsen Gampo's army, forcing Songtsen Gampo to flee. To admit defeat and de-escalate the situation he wrote the Tang Emperor an apology letter.
In 640 AD, Songtsen Gampo sent the eloquent and witty minister Lu Dongzan as an envoy to Chang'an with the offer of thousands of taels of gold and hundreds of priceless toys to persuade Emperor Tang to accept his marriage proposal to make Princess Wencheng his wife. When the Tang Emperor recognized Songtsen Gampo's sincerity, he consented to the princess' marriage to the Tibetan king.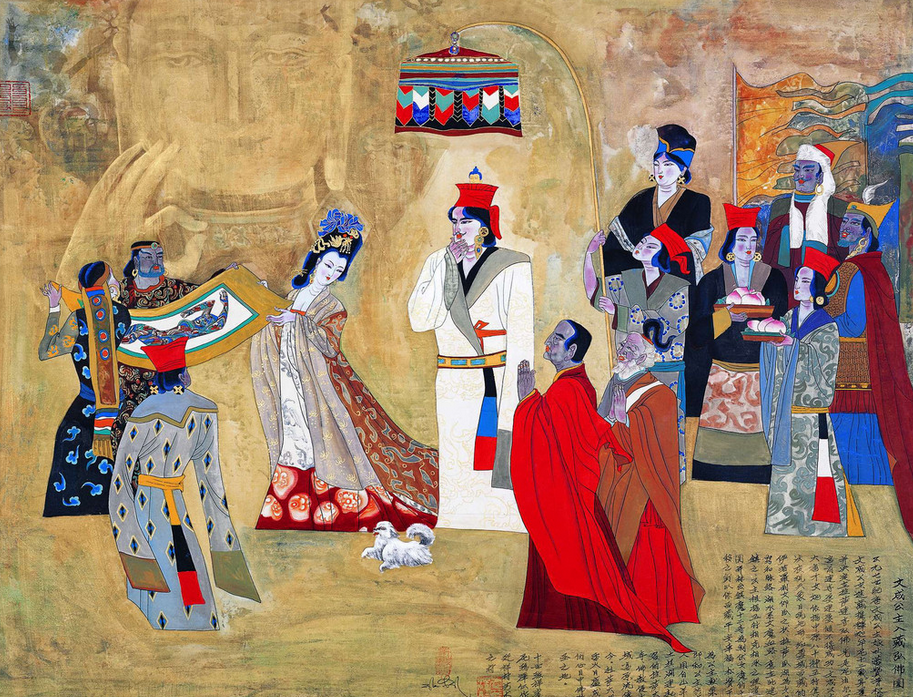 The long-cherished wish of Songtsan Gambo was fulfilled. He was overjoyed and took his army to Baihai (currently Maduo County in Qinghai Province) to personally welcome Princess Wencheng and take her back to Lhasa. As the son-in-law of Emperor Taizong, Songtsen Gampo saluted Taizong when he saw him. His every action revealed a sense of shame as he lavishly praised the great Tang's exquisite attire and impeccable manners. Following their return, he addressed his subjects, saying, "I have Princess Wencheng as my wife, and it's a great honour to Tubo." His ancestors had never wed a princess of the great Tang.
To house the princess after that, he constructed Potala Palace. The enormous building, known as the Potala or Buddha's Mountain, was perched high up on the mountainside, facing south. It provided a panoramic view of the entire city of Lhasa. Even today, a portion of the original palace is still visible.
Sharing Inventions & Knowledge
In the Tang Dynasty, it was a well-known marriage that promoted peace. Emperor Taizong lavished the princess with a sizable personal dowry of silk clothing, fine furniture, pricey jewellery, and many books that would end up in Tibetan libraries, in addition to the many gifts she was to share with her new people, such as farming tools, seed grains, technical manuals, and musical instruments, as compensation for leaving the affluent court behind. By making such gifts, Taizong's empire's Tibetan portion of the border was now secure.
The tale of Princess Wencheng and Songtsan Gambo has since become a beloved legend among the Tibetans and the Chinese.
Bridging the Different Cultures
Princess Wencheng's entry into Tibet strengthened the Tang Dynasty's western border defence, and the Tang Dynasty and the Tubo Kingdom's ties were also significantly strengthened. She is known as Gyasa, which means "Chinese wife" in Tibetan, and her story is an important part of both Chinese and Tibetan history. Songtsan Gambo adored the way of life on the Central Plain. The children of Tubo nobles were sent to Chang'an to study Chinese culture while he took off his felt coat and changed it into silk. After Songtsan Gambo wed Princess Wencheng, there were not many wars between Tubo and the Tang Dynasty in the following more than 200 years, and relations between the two nations were excellent.
Tubo culture gradually assimilated into the way of life of the Tang people through economics and trade. For instance, the Tang Dynasty saw a spike in popularity for the sport of polo, which had its beginnings in Tubo. The Tang Dynasty was also somewhat influenced by Tubo women's attire, specifically the He Mian, the bun, and the rosary.
Princess Wencheng is highly regarded in China as one of the wives who introduced Chinese culture to people outside their borders, thereby advancing their civilization through exchanging ideas and information.
Achievements
Wencheng is revered for her many accomplishments. She is credited with personally teaching local Tibetan people skills in farming, weaving, winemaking and introducing tea and Buddhism to Tibet. She is also revered for bringing over art, music, and sculptures that expanded Tibetan culture. Wencheng's legacy is one of expansion and enrichment, as she helped to bring Chinese culture beyond its borders and helped to expand Tibetan civilization.
Princess Wencheng travelled to Tibet with seeds for crops and vegetables, and she and her companions taught the locals how to cultivate crops and vegetables, grind wheat into flour, and make wine. In addition, Princess Wencheng brought out the Buddhist pagodas, texts, and statues of Buddha that she had brought to the Tubo region in order to build monasteries.
In order to fill in a pond for the construction of the Jokhang Temple, goats were used to transport soil. When the Uncle-Nephew Alliance Tablet was set up next to the tree in 823 to signify the alliance between the Tang and the Tubo, Princess Wencheng, along with her husband, Songtsan Gambo, planted a willow tree ahead of the monastery that was later known as the Tang Willow. Princess Wencheng brought the Sakyamuni statue, which is housed in the Main Hall of the Jokhang Monastery, into Tubo. Songtsan Gambo and Princess Wencheng are memorialized in the side halls that flank the Main Hall. Later generations' constant worshipers heavily golded their faces.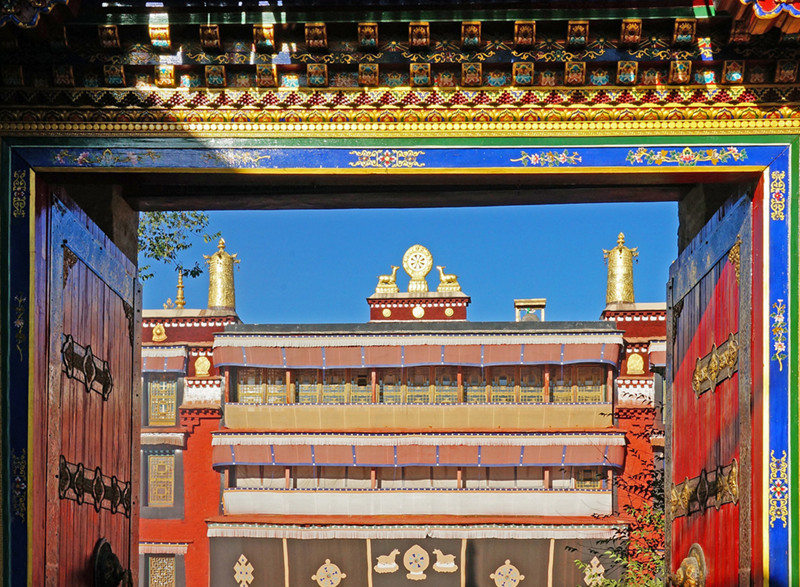 The Ramoche Monastery was also built by order of Princess Wencheng. The eight mountains in the area were given the name "Eight Treasures" by her, and it is still in use today. All of these paved the way for Buddhism to spread throughout the Tubo Kingdom.
Potala Palace: a Gesture of Love
Princess Wencheng's husband, Songtsan Gambo, was so devoted to her that he had the Potala Palace constructed in her honour. Thunderstorms and battles inflicted some damage on the magnificent Potala Palace, which has 1000 chambers. It underwent two rounds of renovations and additions in the 17th century, growing to the size it is today, with the main structure that is 13 stories tall and covering a land area of 360000 square meters. Today it's pretty much the symbol of Tibet and a must visit tourist destination.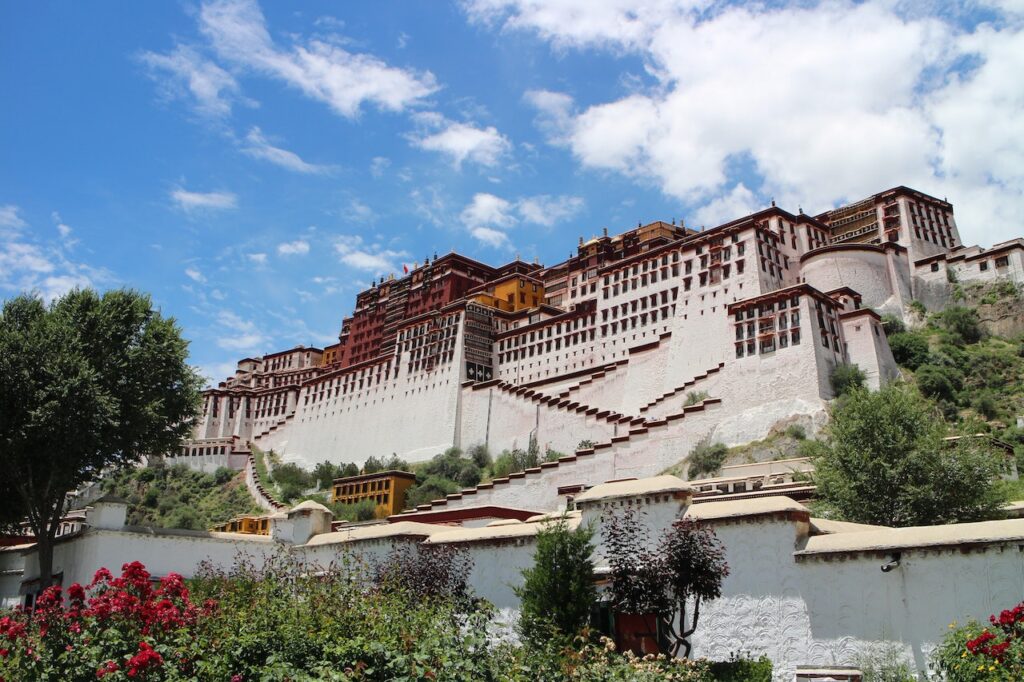 Historical events are depicted in the frescoes of the Potala Palace, such as Princess Wencheng's hardships travelling to the Tubo Kingdom and how warmly she was welcomed in Lhasa, as well as the Tang Emperor Taizong's request of Gar Tongtsan to complete five challenging tasks before agreeing to the envoy's request for his master to marry a Tang princess. Songtsan Gambo's meditation and Buddhist practice took place in a room in the Tubo period ruins that are located behind the Potala Palace. Colourful statues of Princess Wencheng, Gar Tongtsan, and Songtsan Gambo are hung on the chamber's four walls.
Tea & Princess Wencheng
The Tang Dynasty had a thriving tea-drinking culture when Princess Wencheng travelled to Tibet. Princess Wencheng brought numerous renowned teas to Tibet because she enjoyed drinking tea. She eventually got into the habit of putting some Tibetan butter and sugar in her tea for breakfast. As a result of Princess Wencheng's behaviour, officials and dignitaries in the palace began to imitate her. She would frequently give ministers milk tea in exchange for their service and host family and friends. The princess added ghee, pine nuts, etc., and added salt or sugar based on people's preferences to increase the taste tea.
Tibetan butter milk tea became the ultimate daily beverage that contains lots of nutritions and vitamines, perfectly complementing a Tibetan diet that consists of a lot of meat.
A Famous Legend
According to legend, Princess Wencheng's priceless mirror transformed Yueshan and Rishan (Riyue Mountain). In order to stop her relatives' never-ending thoughts, Princess Wencheng moved to the boundary between Tang and Tubo and threw the Sun and Moon Mirror behind her.
It is said that Princess Wencheng and her group briefly stopped in the lovely Renda on their way from Chaya to Lhasa. The princess honoured the nine Buddha statues on the Danma Cliff, including the Great Sun Tathagata, with her exceptional good fortune and merit to remember the place that had made her feel happy and at ease. The princess also intends to construct a temple in this area. However, there are no trees in this region despite the tall mountains. The princess employed her magical abilities in a manner similar to Sun Wukong, the great sage of the sky, by plucking a few hairs from her head and blowing them onto the mountain.
A sizable forest grows miraculously on the cliff rock. As a result, the locals felled the trees and constructed Renda Hall. The princess also instructed the locals on how to use water mills, irrigate wasteland and farm fields, and divert water for irrigation. Later, the locals began to revere the statue of Renda as a sacred site and believed it to be a magical creation of Princess Wencheng. Good people from far and wide flocked to the Renda Hall to worship the Buddha, kowtow, burn incense, and pray for world harmony, favourable weather, and happiness for all.
Death of King and Queen
Songtsan Gambo passed away in 650 AD at the age of just 34. After 30 years, Prince Wencheng passed away. The beloved princess was laid to rest in a formal ceremony. She has been memorialized in numerous verses by poets from every generation. Her tale was transformed into a variety of theatrical formats. Princess Wencheng arrived in Tubo on the fifteenth day of the fourth month of every Tibetan year, and the fifteenth day of the tenth month of every Tibetan year is dedicated to the birthday of Princess Wencheng. Every year when the days arrive, the Tibetan people will gather in their best attire to sing and dance in her honour.
In the Jokhang Monastery, people worship both her statue and that of Songtsan Gambo. The Potala Palace still contains the room where they lived together during their marriage.
Princess Wencheng, who was adored by both her husband and the Tibetan people, made significant historical contributions to fostering trade and cultural ties between Tang and Tibet, strengthening their cordial, amicable, and cooperative relationship. She continues to be cherished and admired by Tibetans today.