India has been always known for its colorful and loud celebrations. Wedding is also one of the beautiful celebrations in India celebrated usually between the months of November and June. Overloaded with alluring customs like mehendi, sangeet and poojas, Indian wedding ceremonies can be stretched to any span of time.
Yes! That's very true. Sounds exciting?
Here, we are going to introduce a bunch of Indian traditions and ceremonies which all together makes a graceful wedding celebration.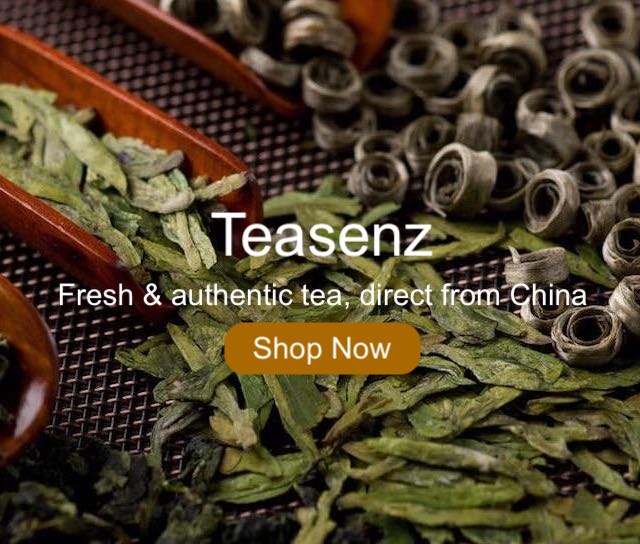 Indian wedding is actually divided into three segments; pre-wedding customs, wedding customs and post-wedding customs.
Let us start with Pre-wedding customs.
Pre-Wedding Customs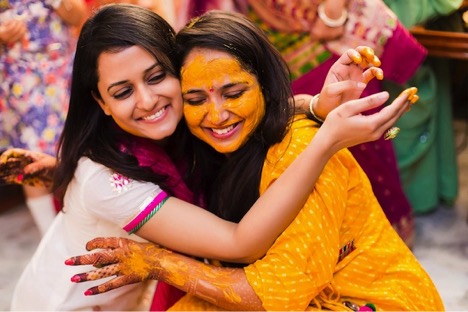 Image Source: https://strandofsilk.com
Among all, Muhurta is the primary and prominent ceremony conducted involving the priest where the date and time for the wedding gets decided. Following the same, people head to further wedding ceremonies.
Pre-wedding customs takes usually a week which is composed of ceremonies like Tilak, Sangeet and Mehendi.
In earlier days, Tilak ceremony is organized a month before the wedding, but now-a-days, it is conducted as per the ease of people. It is followed by Sangeet where, both, groom's and bride's family celebrate by dancing and singing.
Next, comes the Mehendi, the custom of beauty and elegance. It is an art of making designs on hands and feet using a herb called Heena.
Wedding Customs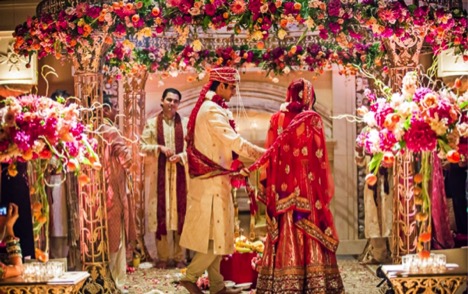 Image Source: https://www.whatsuplife.in
After the arrival of all the guests, relatives and friends, comes the most beautiful day, the wedding day which is again a packet of joy, music, dance and treat.
Wedding kicks off with the Baraat, the tradition of singing and dancing by groom's family which is welcomed by the bride's family. The Baraat includes luxury car or a horse and a music band. The groom and his family is then greeted by bride's family at the venue.
Now, comes the most beautiful moment of Varmala when the bride and the groom exchanges flower garlands.
After a lot of dance and singing, guests enjoy the lavishing treat hosted by bride's and groom's family which consists of delicious Indian traditional food and beverages.
Holding the utmost importance during the entire wedding ceremony, Mandap is the tradition where the bride and the groom takes seven vows to be abide by them for life around auspicious fire. And, the groom ties mangalsutra, a necklace made up of black beads and puts sindoor or vermilion in bride's hair parting.
Phew!! So, many exciting, beautiful and elegant ceremonies, isn't it? It's time, when we will take you to the post-wedding customs.
Post-wedding Customs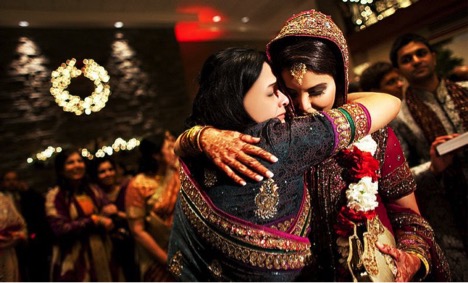 Image Source: http://www.hennabali.com
India is full of traditions and customs, following which the bride and the groom takes blessings of their elder ones by touching their feet after completing all the ceremonies.
The bride then takes a sobbing farewell from her family. But before leaving, she throws handful of rice over her head to ensure that wealth and prosperity remains in her home forever. On reaching the groom's house, the groom's mother welcomes the new couple with a traditional aarti.
Furthermore, there are many wedding games conducted for the the bride and groom. And, in the evening or as per the ease, groom's family organizes a reception party to introduce family members to the bride.
Did You Enjoy?
Wedding customs are beautiful, be it Indian or any other. Since, India is a diversified country and comprised of all kinds of cultures and traditions, you will find diversified wedding rituals also. So, here we have discussed the customs followed by majority of people. But, we are sure once you will delve knowing all of the, you will fall in love with them.